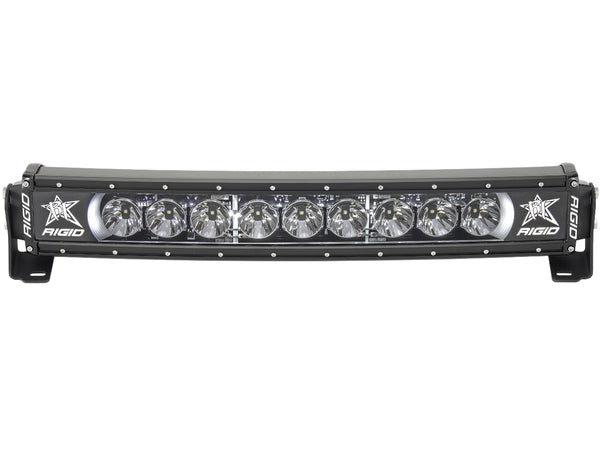 Rigid Industries 20" Radiance+ RDS LED Off-Road Light Bar White Backlight
Unique Backlighting Function in a Curved LED Light Bar
Give your off-road rig of choice one of the most stylish looks around while also getting functional off-road lighting for your after-dark adventures with the Rigid Industries Radiance+ RDS Series Off-Road LED Light Bar. This light bar combines the gorgeous backlighting of the Rigid Radiance+ light bars with the curved housings of the Rigid RDS series light bars to create a light bar system that features both an extremely effective beam pattern and jaw-dropping good looks that re sure to catch attention both on and off-road. This version of the Rigid Radiance+ RDS light bar has 20" worth of LEDs and a white backlight that lets it fit in perfectly on just about any vehicle.
Powerful Off-Road LEDs with Spot Beam Optics
The Rigid Radiance+ RDS Light Bars combine a curved housing with potent optics and powerful LEDs to give your off-road vehicle both long beam range and breadth. Each Radiance+ RDS Series light bar is built around an array of powerful off-road LEDs that generate a huge amount of white light. The light is harnessed by Rigid's Spot Beam optics which work with the curvature of the light bar to deliver a beam pattern with both huge range and excellent width, which makes the Radiance+ RDS series light bars perfect for nearly any application. The LED backlight adds a touch of class and style to the Radiance+ bar, giving it a unique look that is sure to turn a few heads both at night and during the day.
Durable, Waterproof Housing with Strong Polycarbonate Lens
Like all of Rigid's off-road light bars, the Radiance+ RDS Series is incredibly tough, and can handle any challenge or application that you have in mind. The LED board and optics are housed in an extruded aluminum housing with a corrosion-resistant finish and waterproof design. The bar is further protected by a thick polycarbonate lens that's capable of shrugging off hits from small rocks and debris without cracking, chipping, or letting you down. The light bar comes standard with a set of pigtails that allows for limitless wiring options into your vehicle of choice. The light bar comes with a Rigid Multi-Trigger Harness that has two separate switches for the main LEDs and the backlighting.
Light Specs:
Watts: 92
Amp Draw: 6.57
LEDs: 9
Raw Lumens: 7128
Lux@10m: 1295.36
Beam Distance: 359.9m
Peak Beam Intensity: 129536 cd